This post contains affiliate links.
For me, Christmas is inexplicably linked with food. From the traditional mince pies and Christmas cake, to Nigella Lawson's glazed ham. From gooey baked camembert to leftover Turkey curry, and all the Twiglets and Ferrero Rocher I can get my hands on.
When you're as obsessed with food as I am, edible gifts are always on the agenda, so here's my festive gift guide for the foodies in your life (or yourself…).
OK, so an Advent calendar is more of a pre-Christmas gift, but there are some fantastic luxury ones out there this year. If you have a spare hundred pounds or so, The Ginvent Calendar from Drinks by the Dram has 24 different miniature gins, one for every day of Advent. If anybody would like to buy me one then you know where I am!
On a more realistic note, the Chocolate Advent House from Lily O'Brien's is a limited edition creation with 28 chocolates including the award winning sticky toffee. It's beautifully presented so you can use it as part of your Christmas decorations, and it's sturdy enough to be reused and refilled next year. It's more than your supermarket chocolate Advent calendar, but well worth it if you're giving it as a gift.
£25
I also love a good cup of tea, and Harrods Twelve Teas of Christmas is a beautiful looking gift set with 12 different blends inspired by the festive season. A lovely present on a stocking filler friendly budget.
£12.95


In my house, Christmas wouldn't be Christmas without some kind of seasonal spirit. I recently went to Love Wine festival in Birmingham where I was introduced to The Drinks Emporium. As well as sampling an inordinate amount of wine which they stock in their Aston Road store, I also got to try a selection of spirits, including the rather delightful Domaine De Canton ginger liqueur. Originating from France, this warming, golden liquid is beautiful served over ice as an after dinner drink or a lovely addition to Christmas cocktails. Just try not to drink it before you give it to your lucky recipient!
Around £30 per bottle
Where there are spirits, there must be cocktails! And for the stylish bartender, not just any cocktail shaker will do. This stunning clustered bell cocktail shaker from Anthropologie is not only a perfectly functioning shaker to make all the Poinsettia's you like, it jingles like sleigh bells with every touch. Festive and fabulous!
£32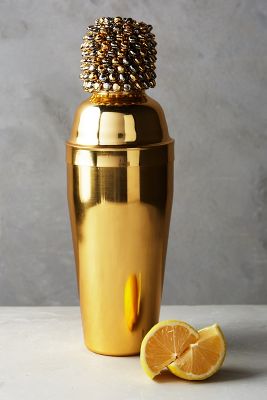 Another gift for those who love to entertain is the supersize 8 litre Kilner Jar with dispenser tap from Lakeland. Gorgeous enough to take pride of place in your kitchen, practical enough to keep the party going into the wee hours. Fill it with punch and let guests help themselves.
Currently on offer at £19.99, normally £29.99
I can never get enough kitchenware and, quite frankly, you could buy me a frying pan and I'd be happy with that! However, it is Christmas, which means something a little more special than the everyday. I love these Le Creuset Heart Ramekins, you know they're fantastic quality as they're from Le Creuset, and they're just so cute.
Around £40 for a set of three
Great quality spices are a must in any cooks kitchen, but getting wonderfully fresh spices can be tricky. The Spice Kitchen UK is a local company in Birmingham, run by mother and son duo Sanjay and Shashi, who import the finest spices and package them in beautiful, traditional tiffin tins. Their range spans gorgeous spice tins with a collection of spices from India, North Africa or the Middle East or  you can get The Spice Collective 2015 Diwali and Christmas Hamper, with a cookbook, a gorgeous hammered copper korai, spice tin, chutneys, dips and all sorts of delicious ingredients for a really special gift.
Tins from £19.95, Christmas Hamper £89
Despite being in the depths of winter, some like it hot, even at Christmas. Give them Birmingham based, 2014 BBC Good Food Show Bursary Award winning Pip's Hot Sauce. The Box Set contains 5 bottles of Pip's signature sauces, ranging in heat from mildly spicy Barbacoa, to the insanely hot Nagatropolis! I've tried all of them and they are truly scrumptious! Just avoid any snowmen while you're carrying them…
£12.50
For me, cheese is the food of Christmas, and though wrapping up a block of cheese and placing it under your tree probably wouldn't go down so well, this Artisan Cheese Makers Kit would be a welcome sight under mine! Giving you all the raw ingredients to make 10 different cheeses, including ricotta and paneer. Just add milk.
£24.99 
As a stocking filler, I'm always a fan of a book. I was recently sent a copy of The Bluffers Guide to Food. Perfectly pocket sized, this little book is full of wonderful witticisms and is a brilliant gift to expert and novice foodies alike. Pointing out the entertaining idiosyncrasies of the foodie world – like the difference (or lack thereof) between baking and roasting, why foodies feel the need to instagram their every meal, and many more nuggets of wisdom to wow your guests over Christmas dinner. Who needs crackers when you have The Bluffers Guide!
£6.99
Then finally, for the foodie who has everything, tickets for experiences are a fantastic gift option that they can look forward to.
For Beer enthusiasts like myself, a Purity Brewery Tour would be the ideal day out. Set in the Warwickshire countryside, you can talk a walking tour of the brewery, with or without food and drinks, and enjoy  a pint of their freshest ale in the bar.
From £16.50
If your recipient likes a decent dram, Birmingham Whisky Club run events all year round, from a large scale Whisky festival to small, intimate tasting events. You don't even have to make them wait long as their first big event of 2016 will be to celebrate Burns night at the end of January. Details TBC!
Even though GBBO is over, it's inspired many people to try their hand at baking. Loaf Cookery School have compiled this brilliant Bread Baker's Starter Pack containing a proving basket, bakers peel, dough scraper and scoring knife, plus if your lucky beneficiary pops into Loaf with an empty jam jar, they'll provide a sourdough starter for free.
£30
Then finally, Cookery classes from Kitchen Cookery School Edgbaston will delight the aspiring chef in your life. With classes on how to make mezze, pasta, tapas, curry and a plethora of other dishes, they can learn, and you can test out the fruits of their labour! Dinner party anyone?
From £50
So though it might be Black Friday, it's not always about getting the best deal on an ostentatious gift. Sometimes it's the thoughtful gift that means the most!
Happy shopping
Cx