Gordon Ramsay is one of those chefs that you either love or hate. I spent many evenings watching Kitchen Nightmares and The F Word with sheer amazement, having never seen such a bold, passionate and – lets face it – potty mouthed chef on TV. But whether you like him or not, one thing I can say for Gordon is that his Maze restaurant brand far outshines those that I've visited from other celebrity chefs.
On my recent trip to London to visit my cousin Sophia Patricia Mai, we and our respective partners treated ourselves to dinner at Maze Grill Park Walk. This is a favourite spot for her and boyfriend Elliot, the staff even recognised them as we walked in, which was lovely!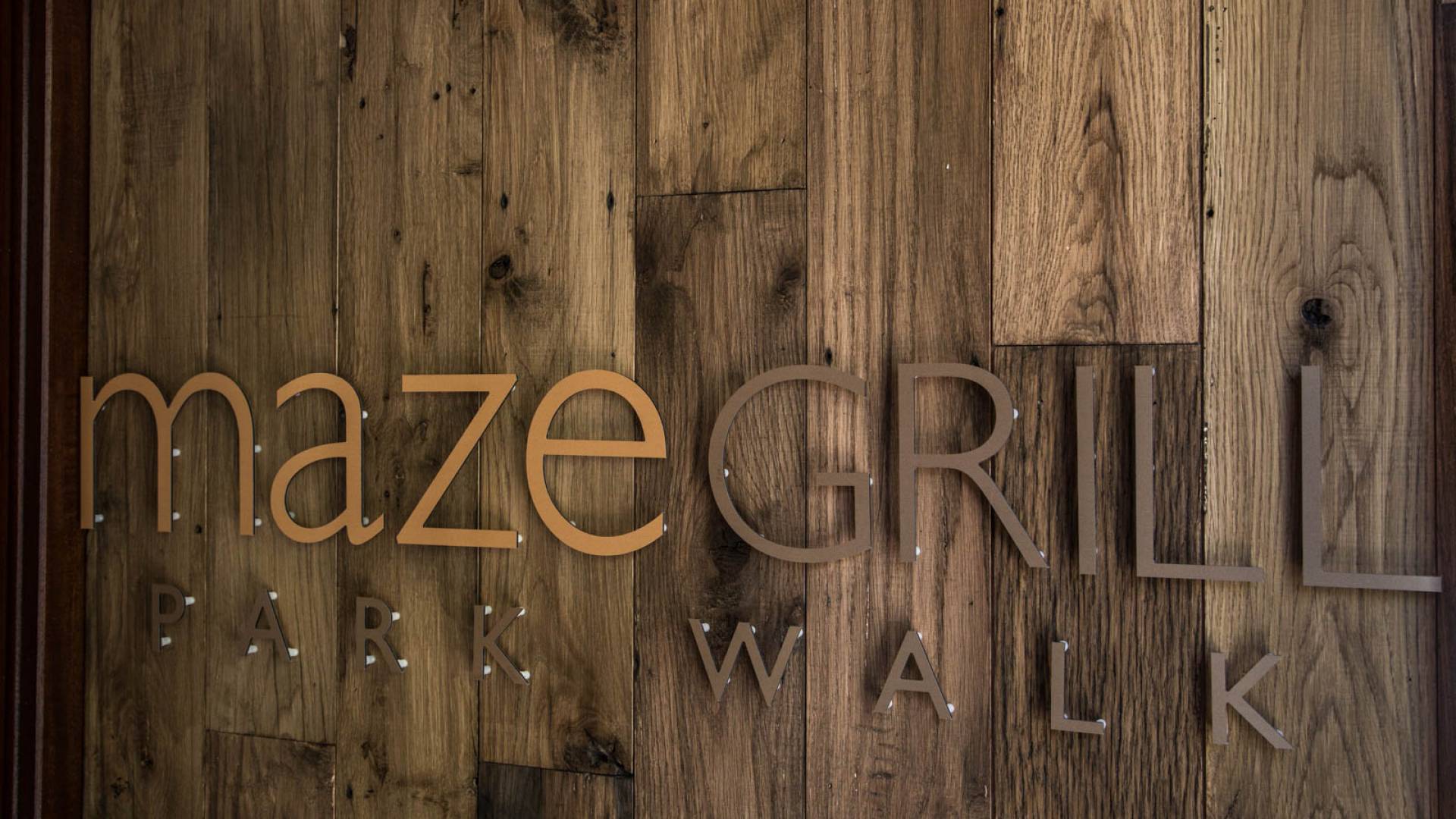 We were seated straight away, our coats taken and given the menus to look over. We deliberated a little over what to drink, but Sophia and I decided to start with a glass of Champagne while the boys had a beer and a G&T.
Our waiter was a real character, and was patient with us as we took ages to decide which wine to have! As the resident red wine drinker, I chose a Chianti Classico for the red choice, while Sophia opted for a Gavi di Gavi for the white, both of which went down a treat.
While we agonised over the menu, our waiter took us through the specials board for the evening. I had been leaning toward the Chateaubriand to share, but all of our eyes lit up at the Cote De Boeuf. We took 2 of the 3 available to share between us, with chips, mashed potato, mac & cheese and greens as sides. I opted for the bone marrow and shallot sauce while Sophia & Elliot had the Bearnaise.
Seeing as we did things backwards and ordered our mains first, out of fear that someone might pip us to the Cote de Boeuf, we then ordered our starters afterwards. On Sophia's recommendation, I went for the sashimi platter, while Elliot had the tuna tartare roll and Ste went for soft shell crab sliders.
It was a short while before we got our starters, but when they arrived they were so worth the wait. The sashimi platter was presented so beautifully, and loaded with gorgeous fresh fish.
With thick slices of salmon, tuna and scallop served over ice, garnished with seaweed, wasabi and pickled ginger, served with soy sauce on the side. Every bite was delicious, the fish was so fresh and clearly the best quality. The highlight for me was the scallop, with a lovely sweet flavour and buttery texture.
The gents were equally impressed with their starters, and I must say the crab sliders looked really good!
After such an enticing starter, I was very excited for our next course. I didn't even really notice the wait between starter and main, which to me, feels like it was exactly the right amount of time. Our wine glasses were never allowed to empty at any time as our waiter flitted back and forth to replenish them, and when the beef arrived I could barely contain my enthusiasm!
Our table was, quite literally, full! Both pieces of meat looked exceptional, and cooked as we had requested, served on a board with extra salt should we have wanted it. Ste couldn't resist doing his best Salt Bae impression…
This was a very lovely piece of beef, cooked wonderfully. The outside had a good char, giving it loads of almost barbecuey flavour, while the inside was rare and juicy.
The sides were also very good. The mash was smooth, creamy and soft. The mac & cheese had a great flavour with hints of nutmeg and a crispy breadcrumb topping. The chips were crunchy on the outside and soft and fluffy inside, while the greens provided a welcome vegetable in a sea of meat and carbs!
We ate every scrap, including having a good go at the bone too, which our waiter admitted was the best part! We had a little rest to let everything settle before moving onto dessert.
I was tempted by the cheese board, seeing as I had in fact already had a rather indulgent dessert waffle at The Ivy Chelsea Garden earlier in the day, but Ste has his eye on the Monkey Bread sharer, so we went for that.
The Monkey Bread was everything I had hoped it would be. Sweet, sticky, pull-apart bread covered in nuts and caramel, served with a generous scoop of ice cream which melted in its warmth. Sharing this filled me with a sort of childish glee at the end of what was otherwise a very civilised and sophisticated meal. I loved it!

I can't deny it though, the meal was expensive. At just over £120 per head for 3 courses with drinks (including service) it's not the sort of place I could make a regular habit of visiting, but for a special meal it was a great destination. We had a delicious meal, plenty of time to enjoy it, and were just a short walk from quirky bars to continue the evening.
Would I go back? Definitely. Just maybe not for a while, to let my bank balance recover!
Fancy trying it yourself? You can book a table at Maze Grill Park Walk online.
Cx